Think you need to drive all the way to Tampa for a delicious cup of coffee?
Think again. St. Pete may have flown under the radar in the past but is now home to some of the best coffee shop experiences in Tampa Bay.
The coffee scene in St. Pete is rapidly changing as the city grows and finds itself home to an ever-growing population of new Floridians.
Before you drive 30 minutes across the bridge to get your cup of coffee, check out the list of coffee shops below. We hope you do yourself a favor – stay in Sunshine City and find a coffee spot as unique as the city itself. Let's take a close look at the best coffee shops based on where you find yourself in St. Pete. 
If you like this post, you might also like:
The Best Coffee in Gulfport – ANANI BISTRO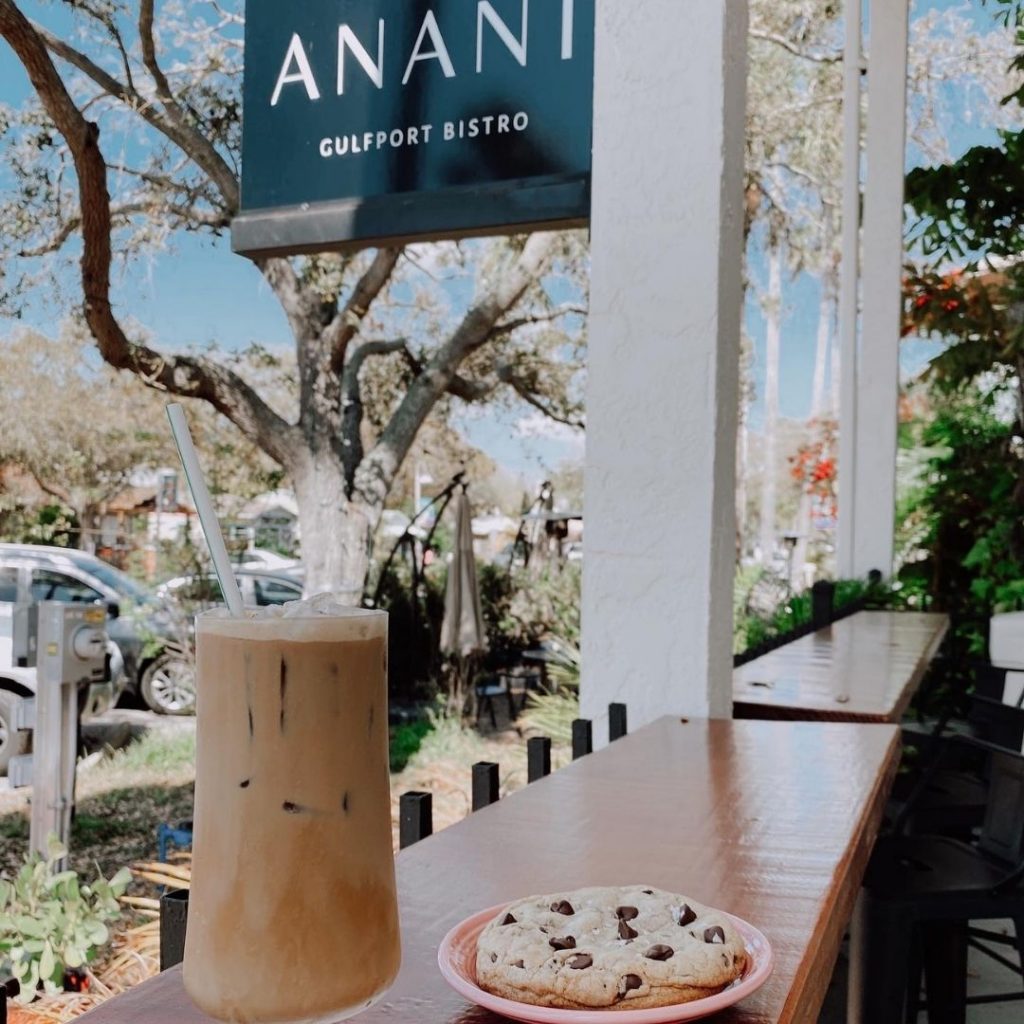 Photo Courtesy of Britt Lennartsson.
The energy of Gulfport is unique, vibrant, colorful, and bursting with personality.
The Anani Bistro captured this energy in a modern space reminiscent of a California beachside cafe. This bright, airy coffee shop offers delicious lattes, cold brews, smoothies, and a delightful assortment of healthy meal options.
They also offer a carefully selected wine menu – perfect for sipping in the afternoon after walking the streets of Historic Gulfport. 
Part of what makes Anani Bistro such a perfect St. Pete coffee spot is their dreamy porch set up. With St. Pete averaging 361 days of sunshine each year, an outdoor dining space is a must in this city.
Next time you're window shopping in Historic Gulfport, stop into Anani Bistro for one of the best coffee-sipping experiences in St. Pete! 
The Best Coffee in Treasure Island – GROVE SURF + COFFEE
Photo Courtesy of The Grove Surf and Coffee.
Does it get any more "Florida" than ordering coffee in a surf shop? Grove Coffee is the cutest little beachside coffee shop. This unique mixed-concept space combines retail and coffee service perfectly.
There are plenty of seating options, as well as the option to carry your delicious coffee through the retail space while you shop! Their menu boasts a variety of yummy coffee options, including seasonal lattes that rotate throughout the year. 
Locals recommend you try the Toasted Coconut Latte or the Orange Vanilla Latte. I mean, while in Florida, right? The best part is once you've grabbed your cup of joe, you're only a minute away from the beach! Absolute perfection.
The Best Coffee Near Beach Drive – PARADECO COFFEE ROASTERS
Photo Courtesy of GLO Travels.
The St. Pete coffee crowd didn't know what hit them when Paradeco stepped on the scene. This absolutely stunning space opened earlier this year after a delayed opening thanks to our dear friend, Covid-19.
But this space has proven that all good things are worth the wait. It's possibly the best place for coffee in the city.  Paradeco sells their own coffee beans that they roast in-house.
Not only is Paradeco serve some of the best coffee in St. Pete, but the owners also created a beautiful space that is equally as impressive as it is inviting. 
Absolutely NO detail was overlooked when curating the space. From the quality of their coffee to the quality of the farms sourcing their beans, the owners of Paradeco execute every task with a sense of pride and excellence.
It must also be mentioned that your coffee is served in a beautiful TERRAZZO CERAMIC MUG! The aesthetic of this place is unmatched.
Next time you're walking Beach Drive, plan to stop into Paradeco for a coffee experience both your eyes and taste buds will savor.
The Best Coffee in Old Northeast – THE BLEND COFFEE & WINE
Photo Courtesy of The Blend Coffee & Wine.
We're claiming this as "Old Northeast's" best coffee shop, but this sweet little storefront has already expanded to three different locations in St. Pete including Downtown, Old Northeast, and their newest drive-through coffee shop location on 34th Street!
The owner hails from Seatle, Washington – so we trust she knows her coffee. With beans sourced from Nicaragua, Brazil, and Peru, you truly do get to experience a blend of flavors as you sip.
The atmosphere soaks up the local flavor with a modern, tropical theme enhanced by artwork and photography by local artists.
This coffee shop has become a crowd favorite for those who still find themselves working remotely. If you get a chance to stop into one of The Blend's three locations, try their unique menu item: the white bean espresso.
It offers a stronger jolt of caffeine than regular espresso, and makes a pretty drink too! The Blend has also started offering coffee flights, so you can sample any 4 of their coffee drinks to determine which you like best. With some of the best coffee (and wine!!) selections in St. Pete, The Blend rightfully earned a spot on our list.
The Best Coffee Near MLK Business District – PINEAPPLE ESPRESSO
Photo Courtesy of Pineapple Espresso.
If you're in need of an absolutely delicious coffee and breakfast that you can feel good about, Pineapple Espresso is your spot!
This cutie little drive-through coffee shop offers coffees, latte, cold brew, and a variety of yummy food items. As you pull in, you are greeted by one of their sweet attendants who take your order and guide you through the line. The best part about Pineapple Espresso is they managed to keep a vintage Florida feel for this drive-through concept.
Pink and green pineapple decor surrounds you as you browse the menu, and follow the road lined with palm trees to have your drink, or delicious food, delivered to you!
Speaking of the food – if you're disheartened by the lack of creativity in most to-go breakfasts, Pineapple Espresso will blow you away with their mouth-watering avocado toast options. One of their most popular options is the Prosciutto BLT toast.
This coffee shop offers dairy-free and gluten-free menu items, which means just about anyone can experience this one-of-a-kind coffee experience. The vibe and quality of their product put this one on our list of best coffee shops in St. Pete.
The Best Coffee in Downtown St. Pete – INTERMEZZO 
Photo Courtesy of Intermezzo.
Next on the list is a popular spot for coffee and cocktails alike. Intermezzo is a bustling little coffee shop meets craft cocktail bar located in Downtown St. Pete directly on Central Avenue.
This spot is the perfect place for coffee with a coworker, cocktails with a friend, or an afternoon of working remotely when you need a change of scenery. The menu boasts delicious drip coffee, tea, and espresso options – and not just for the coffees. Intermezzo's cocktails are carefully crafted – many of them including a coffee or espresso element.
The storefront is styled in a simplistic, organic style with hints of inspiration from mid-century European cafes. One of St. Pete's best coffee shops and cocktail bars, Intermezzo is a must-try during your time in Downtown St. Pete.
Hopefully, you've been convinced – the list really does go on and on when it comes to awesome places in St. Pete to enjoy a coffee.
The best part about staying in St. Pete for your caffeine fix is that you will have a delicious coffee with a unique experience to match.
Whether you're driving through the Blend's 34th street location on your way to work, or stopping in for an espresso cocktail at Intermezzo, St. Pete's coffee scene is sure to impress. 
About the author:
Kristen Lee is a freelance writer based in the United States offering copywriting and blogging services. She provides captivating content to drive traffic and visibility to businesses in need of a digital presence. When she is not hunched behind her laptop, you can find her boating with friends, hunting down a delicious decaf coffee, or helping her husband renovate their 1920's bungalow. 
Please follow and like us: