Everyone appreciates a custom gift. It shows that you put thought and effort into your gift.
A simple mug becomes a treasured piece.
Whatever the gift, once it's customized, it becomes a memory and is immediately associated with you and the love you put into the gift.
My dad is nicknamed "Yeti." I won't get into why (leave a comment if you really want to know) so one year, I made a mug for him with his nickname and a picture from Rudolf the Rednose Reindeer, the abominable snowman.
He loved it. And one day, my mom accidentally broke the mug. He was so bummed out. He loved that mug.
That is the power of customization.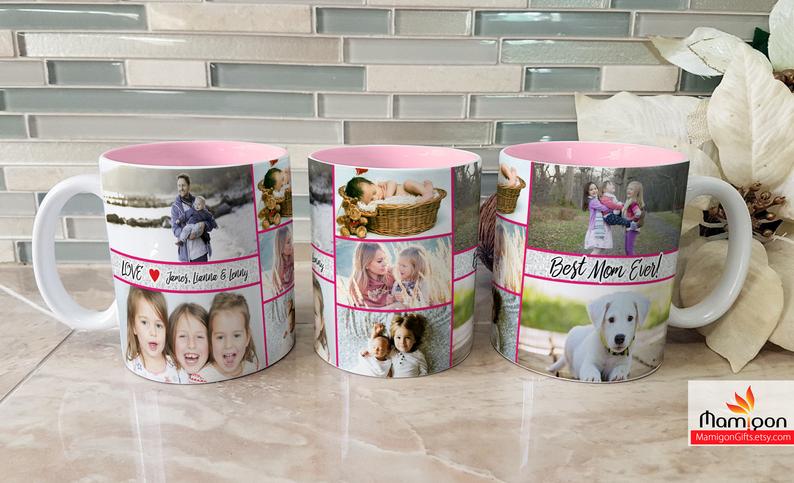 Personalized Photo Coffee Mug
I don't think there is anyone at all on my list that wouldn't love this mug.
There is so much you could do with this customizable image mug like:
Make a vision board for someone who likes to visualize their goals
Have it made with images of family or pets who have passed away
Put old images of a grandparent when they were younger so they reminisce
Family photos
Embarrassing photos (I'm thinking Glamour Shots!!! Who remembers Glamour Shots?!?!)
Wedding photos
Photos of family that lives far away
Photos of their accomplishments (graduation, first business, buying a first home, etc…
There are endless ways you can make this into something they will absolutely love.
---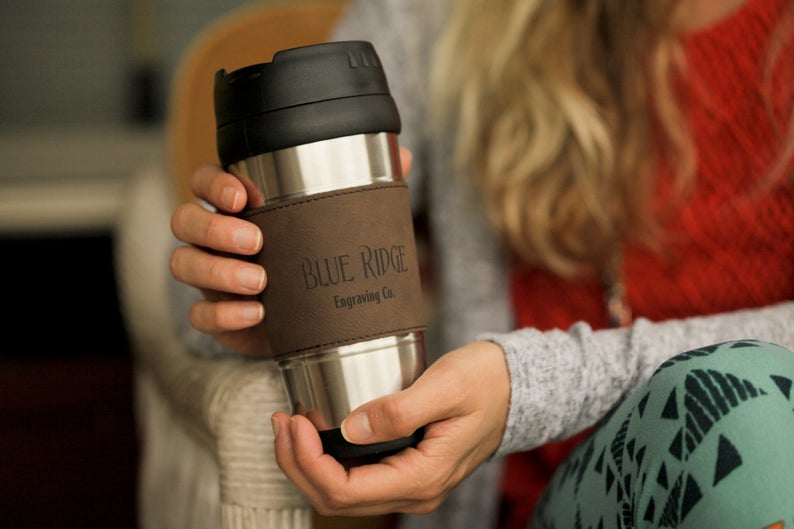 Stainless Steel Engravable Leatherette Travel Mug
Everyone needs a good travel mug.
This personalized stainless steel travel mug makes a perfect gift for just about anyone on your list.
Here are some ideas of what you could put on this mug:
Business logo
Funny or thoughtful quote
Name or nickname
Date (Weddings, birthdays, kids birthdays, the date someone started a big life event like a business)
Inspirational word
"Will You Marry Me"
"Daddy" or "Grandma" as a birth announcement
You can get really creative with this travel mug.
---
Customizable Coffee Station Blocks
Most modern coffee lovers have a coffee station set up in their home. I have one with a customized sign that was made for me as a gift.
This is a really cute gift for someone who has a coffee station or is thinking of setting one up and just needs a little nudge.
It can also be used as a joke for a coworker who handles all the coffee.
---
Customizable Paper Coffee Cups
Do you have someone on your list that is always on the go?
This gift is great for people who have friends over often and want to send coffee home with them.
It would also be nice for someone who has a small business, you could get their business logo printed on them.
You could gift this to a bride for her wedding day, a bachelorette party, a stag and doe, etc..
If your family travels for the Christmas holidays, you could have these made for your family.
If you have an event, like a child's soccer tournament, you could have the team logo printed on these cups.
---
Customizable Desk (or Other Surface) Plate
This customizable desk plate is solid, sleek, and versatile.
There are endless ways you could customize this, and it doesn't have to just be a desk plate.
Here are some ideas:
Use this as a coffee station sign
Put a joke on it about someone who drinks too much coffee like "do not approach until I've had my coffee."
If someone loves photography and coffee, you could have it say "coffee and photography…that is all" or "first I drink the coffee, then I snap the pics."
This could be really fun coming up with jokes to put on this plaque. Get creative and leave a comment with what you come up with.
---
Save this post so you remember where to find awesome customizable gifts for coffee lovers.
---
Coffee Lovers Gift Guides
Please follow and like us: