The Eggnog Latte Recipe So Easy Anyone Can Make It
Eggnog Latte? I know right. Unusual, but oh so delicious. You have to try this recipe!
It's something we all look forward to at the holidays…when Eggnog hits the shelves at the grocery store. Eggnog is a drink that brings back the memories of all the Christmas's that have passed.
All the family gatherings, all the giving of gifts and giggling with cousins you haven't seen in a while. It reminds us of the happiness we feel when we are with those that we love. Try this Eggnog Latte to bring back this swirl of happy memories that will really warm your soul.
This Eggnog Latte recipe will really wow your guests over the holidays, or maybe you just want to curl up with a good book and delicious drink. This Eggnog coffee is sure to add to your comfort on a cold winter day. Try some of my other recipes here.
The Pieces of your Eggnog Latte Puzzle
Optional:
Death Wish Ground Coffee

HERSHEY'S Chocolate Syrup, 24 Ounce

Badia – Ground Nutmeg – 16 oz.

French Press

IMPORTANT!!! If you want to make great coffee, you need to get yourself a french press, it's the best and easiest way to make amazing coffee.
How to Concoct Your Eggnog Latte
Using a medium sized saucepan, mix eggnog and coffee together (Try using a french press for delicious coffee, read about that here) Heat with medium heat until warmed.
Remove from heat and stir in the delicious chocolatey syrup. Pour concoction into mugs. Add your dollop of whipped cream to the top of your Eggnog Latte. Next add shaved chocolate and a garnish of nutmeg to taste. Enjoy!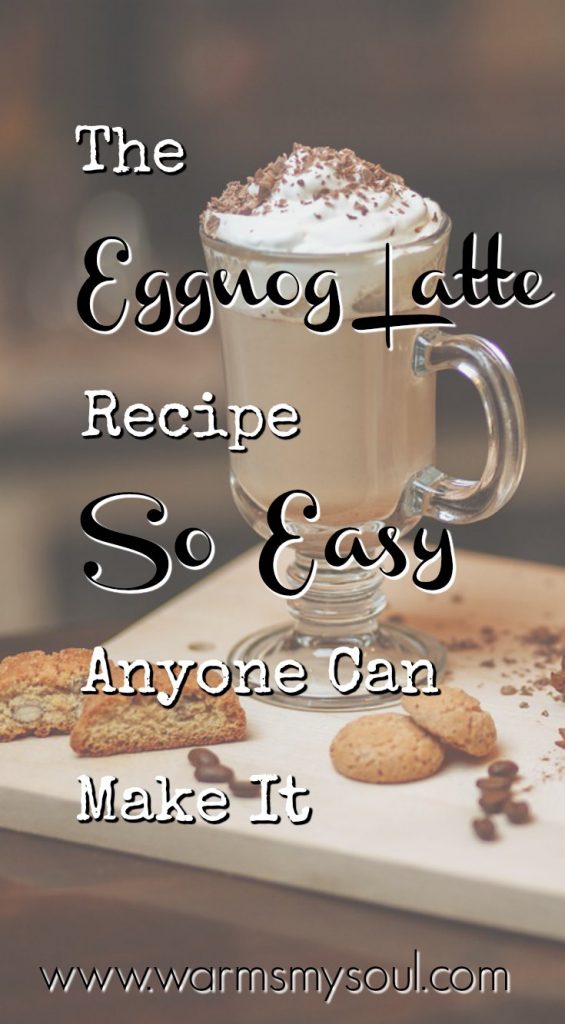 That Was An Easy Eggnog Latte Recipe, Right?
This is one of the easiest and most delicious ways to make a Eggnog Latte for a special treat during the holidays that you won't be able to get enough of.
Want To Make More Delicious Coffee?
If you like this Eggnog Latte recipe, try How To Make a Pumpkin Spice Latte Better Than Starbucks, or How To Make a Mocha Latte That Tastes Like a Milky Way.
Try Some Delicious Coffee and Latte Recipes
Try any one of these other delicious coffee recipes today!
Please follow and like us: