25+ Unique Gift Ideas for Coffee Lovers That She Will Love – Christmas Gift Guide
If I'm right, you landed on my page because there is a lady coffee lover on your list and you are stumped on what to buy her for Christmas this year.
Well, you're in luck, I have tons of great coffee lovers gift ideas for the woman in your life!!! These are all things I either love and have or want because I am a big coffee lover myself.
I've been experimenting with coffee recipes and making delicious coffee for a long time. (Check out some of the recipes here, some even have bonus DIY gift ideas)
So if you're looking for coffee lovers gift ideas, you've come to the right place, you are asking a coffee lover. I've got the inside scoop of some amazing coffee lover gift ideas that your (mom/sister/cousin/friend/girlfriend/wife) coffee lover will be pumped about.
---
Great Gifts If you Have No Idea What to Get
First I'd like to start with a universally loved gift.
The Gift basket for coffee lovers!!
I've never met anyone who didn't love a gift basket.
The great thing about coffee themed gift baskets, is there is usually a nice mix of things, so she has a lot of options.
I love getting a gift basket.
It's always stuff that I would never buy for myself and it's always a cool mix of interest and tasty things. They always include complementary products that you normally wouldn't know to put together yourself.
For instance, a coffee gift basket will usually have treats that go well with the coffee.
Christmas coffee gift baskets are always presented beautifully and no assembly required.
This is an easy coffee lovers gift idea that requires little work on your part and you can usually have it delivered to her directly so you don't even have to deliver it yourself.
If you have no other ideas, this is the one. It's easy, it's simple, and as far as coffee lovers gift ideas, it is a slam dunk every time!!
Here are some suggestions for some awesome coffee lovers gift baskets that I would be ECSTATIC to get!
Coffee Time Gift Basket Buy Now
Coffee Break Gift Box Buy Now
---
Really Cool Carving Into the Side of a Book – Decoration For Coffee Bar/Office/Bedroom
When I found this one, I actually went "woah."
This is so cool!!
Anyone who has an appreciation for books, or loves cool art will appreciate this gift.
I think this one is the best gift idea for coffee lovers who love art that I've ever found.
---
Handcrafted Coffee Scoop
This is a beautiful gift. I have very few handcrafted items in my house and each one is very sentimental to me.
Not only is it associated with the person who gifted it, but having something handcrafted is very special.
We live in a time where everything is mass-produced, so when I receive a gift that is made by hand, I feel all warm and fuzzy.
My family value handcrafted items and we often make things for each other. Although I don't personally know the person who handcrafted this, it is lovely and I would be thrilled to receive it.
So will your sister, mom, wife, daughter, or other coffee loving woman in your life.
---
Custom Reusable Coffee Sleeve
Most coffee lovers get coffee from their favorite place like Starbucks or Tim Hortons on a regular basis. Why not get her a custom reusable coffee sleeve so she can drink her coffee in style and comfort.
---
Love My Plants – Love My Coffee
Wow. Just Wow.
This gorgeous sign will resonate very strongly with any woman who, like me, has a house full of healthy green plants.
The artwork on this slice of tree is beautiful and if you click through and look very closely, it's very well done.
This makes a perfect gift for someone who has a green thumb and especially likes to keep indoor plants.
For you non-plant people, the plants featured on this slice of wood are mostly succulents, so if you've heard your coffee loving woman mention succulents (harder to kill than most other plants) than this is a lovely gift idea.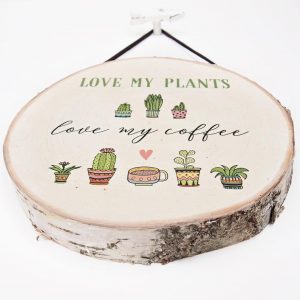 ---
Mugs and Ceramic Cups Make Unique Gifts for Coffee Lovers
Part of the experience of being a coffee lover is enjoying the vessel that contains your delicious coffee concoctions. I personally have lots of different themed mugs, ceramic mugs that I just think are pretty, cool, unique, or artsy.
Often, a coffee lover will have a display of her own coffee mugs that she adores. I'm a big coffee lover and my husband is a huge tea and hot drink lover. We have a coffee station at our home and we display our absolute favorite mugs that are unique or have a cool story to them.
When you buy a mug for someone, you are giving them a little piece of you that they can enjoy. The key to this gift is to buy something that you know they will like, but that YOU are also excited to give to them. That is the secret sauce to getting someone a mug that will be memorable.
Here are some really unique mugs that are definitely going on my wish list this year. These are some of the coolest mugs I have ever seen. I love this idea and I can't wait to get one myself.
If you click on any of the links below, there are lots of other creatures and land cups, some creepy cups, and they are adding new ones all the time. You DEFINITELY have to check these out.
Octopus (Wedgewood Blue)

Unicorn (Magic Blue)

Besides these cups, to chose from. These mugs are SO COOL!!!
---
Actual Free Trade Coffee Beans Inside Some Earrings
This is a very cool idea.
There are coffee beans inside the metal cage of the earrings.
The best part about these earrings is that they provide jobs for women living in poverty in the Dominican republic.
I LOVE that about these. And if you've ever seen the coffee loving woman in your life cry over a commercial that shows children in poverty in other countries, this is perfect.
Every year for Christmas, my mom and I pick a charity that helps poverty-stricken countries.
You aren't only giving a beautiful gift, but you are supporting a very worthy cause.
You are giving beauty and love.
---
Super Cute Miniature Coffee House
Making little miniature villages has become very popular and there are tones of people all over the place making little versions of town and cities. If she loves tiny houses and miniature villages, this is a perfect gift!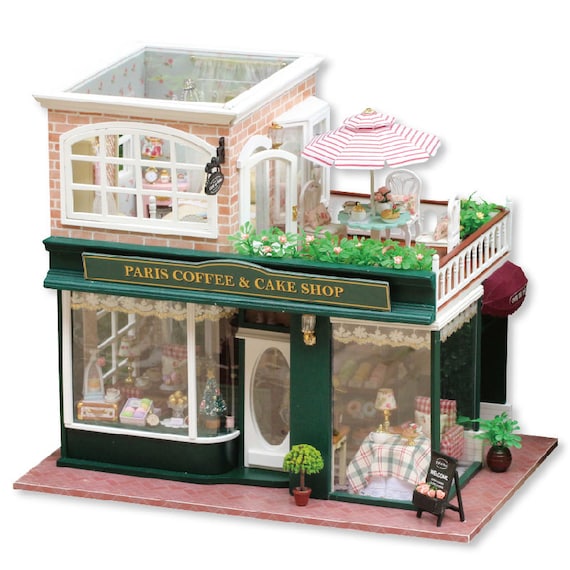 French Coffee Journey – Miniature DIY Dollhouse Kit

*During the holidays, things on Etsy go really fast, so if it's something she will like, make sure you get it right away.
---
Cute Coffee Socks
These socks are totally adorable. Now imagine you're hanging out with your friend/wife/girlfriend/mom/sister who loves coffee.
You:"Would you like anything, maybe something to drink?"
Coffee Lover: *Puts feet up on ottoman*
You both laugh. Everytime she puts these socks on she will think of you and it will be a super cute conversation piece when she's visiting others.

Luxury Cotton Socks

---
Spa Gift Set For Women
This is an old stand by.
You can NEVER go wrong with a spa gift set.
They even customize the gift by printing the recipient's name in rose gold lettering for you.
Every woman loves a customized gift, and a spa set is perfect if you have no idea what to get.
My husband's grandmother is impossible to buy for, so every year we buy her lotions and bath products. It's a classic she will always use.
---
Really Cool Rustic Wooden Coffee Mug
This super unique coffee mug is made of wood, what a cool idea! This makes a great gift if she loves the look of wood, or if she just loves super unique coffee mugs.
This wooden espresso coffee cup is so darn cool. It will make a great talking point and each time they take it out, someone will surely comment on how unique it is. This is a very unique gift idea for coffee lovers.
250ML WOODEN ESPRESSO COFFEE CUP

d
---
Coloring Book for Coffee Lovers
This is a really unique gift for coffee lovers. If your coffee lover has an artistic flare, she will love this coloring book for adults. Coloring books have been gaining popularity and they are a fantastic way to reduce stress. Coloring is a form of meditation for some people.
This is also a great gift for people who like to entertain. She could put the book out on her coffee table with colored pencils and tell everyone that comes over to color a page and sign it. It's a great for memories.
This is a cool Christmas gift coffee lovers will go nuts for.
A Snarky Adult Colouring Book: I Run on Coffee, Sarcasm & Lipstick

The Adult Coloring Book for Coffee Lovers

Coffee Time: A Coffee Lovers Coloring Book For Stress Relief and Relaxation

---
Coffee Care Package Gift Set
If she doesn't like an octopus, but loves soaps and spa type things, she will love this coffee scented gift package. It comes with soap, sugar scrub, and lip balm. This is a beautiful gift that any coffee loving woman would adore.
---
Really Cool Stainless Steel Mugs
Wow, they are really doing cool things with mugs these days! Stainless steel mugs have become really popular throughout the last few years. They are so durable and great for camping, or just as a favorite mug.
This makes a really great gift for coffee lovers. She will truly enjoy drinking her coffee from this stunning mug. Think of the selfies!!! They truly make a gorgeous display and will last forever.
STAINLESS STEEL ROSE GOLD SILVER MUGS

STAINLESS STEEL MOSCOW MULE COPPER MUGS

---
Funny Coffee Spoon
This funny coffee spoon is a fun gift idea for coffee lovers. It's a fun piece to have out on her coffee station, or when having company over to display her goofy nature and love for coffee.
Mud Pie Decaf Coffee Spoon Rest

---
Coffee Signs For Work or Home
These coffee signs are adorable. This makes a fun and unique gift for your coffee lover. She can display her love for coffee at home or at work so she can make sure anytime someone's doing a coffee run, she is always included.
If she is especially cranky before drinking her morning cup o' Joe, and she has a great sense of humor about it, she will find these just as cute as I do.
Classic Coffee Box Sign

Box Sign – No Coffee No Workee

---
Coffee Bean Earrings
If she loves to wear funky things and enjoys showing her love of coffee, these coffee bean earrings are perfect. They are very unique and unusual. They look like actual coffee beans.
---
Sterling Silver Coffee Bean Earrings
If you think she will love the idea of coffee bean earrings, but don't like that they look like actual beans, these sterling silver coffee bean earrings might suit her a little better. They are lovely and they clearly convey her love for coffee.
---
Funny Mugs for a Goofy Coffee Lover
You really can't go wrong with coffee mugs. But maybe your coffee lover is more of a funny mug kind of gal. Here are some coffee lovers gift ideas that are a little goofier.
I love a good funny mug. Or a cute pet inspired coffee mug. I have dogs, so I have a few dog related mugs. Here are some ideas to get the juices flowing.
Mugs are always a good idea as a main gift filled with candy, or as an add on to spruce up another gift. Mugs are the thing that holds the delicious coffee, so how could they not like it!!!
Funny Mug – World's Okayest Employee

InGwest Home. Morning Coffee Mug. 11 ounce. Changing Color Mug

Have a Nice Day Coffee Mug

---
Coffee Warmer
One of the most annoying things about drinking coffee is that it gets cold quickly. This desktop coffee warmer is perfect for your office, to keep the coffee lover in your life from suffering from the dreaded sip of cold coffee. YUCK!!
When she is at work and it's almost lunch time and her coffee is still warm, she will take a sip of her warm, delicious coffee and think of the awesome person that gave them this small luxury, YOU!!!!
Mr. Coffee Mug Warmer for Office

---
Animal Themed Mugs
Animal Themed Mugs
Oh boy, these are some of the coolest Mugs I have seen in a long time. Give one of these mugs to her if she loves weird creatures.
Does she love weird animals like a dinosaur or an octopus? Get her a cool weird animal mug so she can show off her fun personality. I've mentioned mugs a few times in this article, but that's because they are SO DARN FUN and coffee lovers usually really love a great mug.
An
Pink Octopus Ceramic Mug

3-D Shaped T-Rex Dinosaur Ceramic Mug

---
Treasure Chest of Coffee
If you are stumped, this is a great gift. She can try all kinds of different gourmet coffees and she gets to keep this cool treasure chest and reuse it for something else after she's done all the delicious coffees that are included.
This one is definitely going on my wish list!
---
The Best Travel Mug for Coffee Lovers
The Contigo travel mug is universally known as the best travel mug for coffee. It keeps coffee warm for a long time. In our house, we have 3 of these and we use them everyday. The best part is you can't have too many of them.
They can be used for cold or hot beverages (yay, good for iced coffee too!!!). When in doubt, you can't go wrong with these!
Contigo West Loop Stainless Steel Travel Mugs

Contigo Stainless Steel Travel Mug

---
Coffee Pillow That Coffee Lovers Will Adore
Coffee lovers like to display their love for coffee all over the house. These pillows are adorable and make a great addition to any room. You can get a funny one or a decorative one, or even both.
If she is proud of her home decor and loves a pop of fun in her living room, she will definitely love one of these pillows. I'm putting the colorful one on my wish list this year!
Fjfz Coffee Books and Rain Pillow

First I Drink The Coffee, Then I Do The Things Pillow

Color Coffee Cup Decorative Throw Pillow

---
Coffee Recipe Books
If your coffee lover likes to make her own coffee recipes, she will love this book. There's over 100 recipes for tasty coffee. When she has friends over, she can wow her friends with the most delicious coffee.
This gift will keep on giving because there are so many recipes.
You could pair this gift with a set of mugs or the treasure chest of coffee mentioned above.
I Love Coffee! Over 100 Easy and Delicious Coffee Drinks

---
Coffee Gator Stainless Steel Coffee Container
This stainless steel coffee gator is a REALLY good coffee container. The only way to have super delicious coffee is if it is incredibly fresh. This container is not see through, and is airtight, both things you need to keep your grounds fresh and dry.
Get this coffee container today for your coffee lover so that she can always have deliciously fresh coffee. YUM!!
Coffee Gator Stainless Steel Container

---
Coffee Menu Tin
This coffee menu tin is great for displaying how to make different drinks. They won't have to look it up each time and it's a really cute piece of art.
It can be used as a reference, or just as a cool piece of art to liven up her kitchen a little bit. Either way it's a cool sign.
Coffee Menu Know Your Coffee Tin Sign

---
A Super Cool Caffeine Molecule Necklace She Will Be So Excited To Get
This caffeine molecule necklaces is definitely my favorite of all the ideas on this page. I am putting this on my wish list for sure this year.
This makes a great gift for coffee lovers who have a quirky personality, or maybe she likes science, maybe she's a bit dorky and proud of it, or maybe she's not dorky at all and will just think this is a cool necklace. Either way, she likely doesn't have this and will think it's super cute.
Rosa Vila Caffeine Molecule Necklace

Serotonin, Coffee, Dopamine Necklace

---
For Someone Who Loves Coffee But Hasn't Tried A French Press Yet
When I started discovering that there was a better way to drink coffee, the first place I started was with a french press. See my article on how to use a french press to make amazing coffee so you can see what I mean.
A french press is the cheapest and most delicious way to up your game with coffee. If you are going to give a french press as a gift, you should pair these three together:
Delicious whole coffee beans (coffee tastes best when the whole beans are freshly ground -the link below for Kicking Horse Medium Roast Three Sisters whole coffee beans is my absolute favorite)
A grinder

The link below is the same kind I have. It's adjustable for grind (can use for coarse or fine).

A french press.

The link below is good for a beginner. You want the hand to be separate from the glass so the heat doesn't transfer and it's easy to clean.
This is a great gift for coffee lovers who haven't quite ventured into making their own. You can give her a link to my french press article to show her how to make her first cup of truly delicious coffee.
Kicking Horse Coffee, Three Sisters, Medium Roast, Whole Bean

COFFEE BEAN HAND GRINDER

FRENCH PRESS

---
Funny Tshirts Make a Great Gift for Coffee Lovers
If the coffee lover in your life is someone who likes to wear funny tshirts, a funny coffee tshirt makes a great gift. Since Amazon has opened up their platform for people to design whatever tshirts they want, there is no shortage of tshirts available.
These shirts make great gifts for a coffee lover to flaunt her coffee or hot chocolate loving ways.
---
Unique Gift for Your Coffee Loving Barista or Wannabe Barista
This is a cool find. This is a barista apron. She will love this if she loves the Barista life, or if she just likes to play Barista at home. Click on the link to see more pictures of the apron.
This gift is great for edgy ladies who love a modern apron. This is not your grandma's apron!!!
bBa
BARISTA DENIM BIB APRON

---
Please follow and like us: