25+ Gift Ideas for Coffee Lovers That He Will Love -Christmas Gift Guide
If the man is anything like the men in my life, like my husband, my dad, and my brother in law, than they are incredibly difficult to buy for.  All the men in my life just buy whatever they want and when Christmas or Birthdays come along, it's like banging my head against a wall to find something to please them.
This article strives to find coffee lover gift ideas for him that will surprise him because he likely never thought of any of these ideas.
Whether he's a fancy coffee drinker or just likes coffee in general, you will find something in this list that he will enjoy. 
*This post may contain affiliate links, which means I make a small commission when you purchase something, but it doesn't cost you any extra.
---
Unique Silver Coffee Bean Cufflinks
These coffee silver bean cufflinks are great for men that use them once in a while. 
They are subtle yet classy.  This is a fantastic gift for the classy gentleman in your life.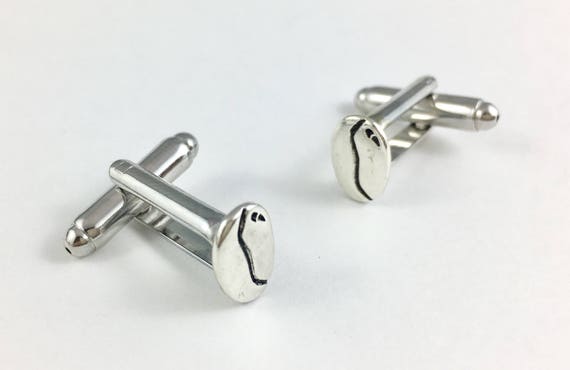 Coffee Bean Cuff Links

---
First Coffee Then Sales Prospecting Journal
Is he a salesman? 
Does he have his own business?
Does he make calles he needs to track?
This sales and prospecting journal is perfect for the business man on your list.  
All the men in my life like a good practical gift they can use.  
This journal is a perfect practical and attractive gift.  He will thank you for being so thoughtful.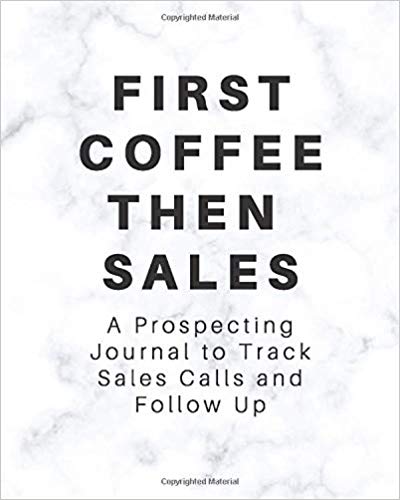 ---
Classic Syrup Coffee Flavoring Sampler Pack
This is a good fail-safe gift for any man who likes to add a little twist to their coffee without the guilt of adding extra calories.
These skinny syrups are keto-friendly and gluten free.
If the man on your list is health concious but still likes a little flavor, this sample pack of all the best selling syrups by Jordan's skinny mixes is perfect.
This sample pack includes:
Salted Caramel Skinny Syrup
Vanilla Skinny Syrup
Mocha Skinny Syrup
Caramel Skinny Syrup
Hazelnut Skinny Syrup
Butter Toffee Skinny Syrup
*There are lots of other flavor packs such as this one that includes a few fruit flavors and this one that has all dessert flavors.
---
Coffee Subscription Service So He Can Have Amazing Coffee All the Time
This company is really cool.  You can subscribe to get new flavors delivered to your house, and the best part is that they move the product as quickly as possible, so it's always as fresh as possible.  This is fantastic for anyone who loves to try new flavors all the time and they want to be a bit adventurous.
---
Whisky and Rum Flavored Coffee
Now this is really cool and unique gift for a coffee lover.  If your coffee lover grinds their own beans and loves Whiskey and Rum, they will love this whole bean set of Whisky and Rum flavored coffees.
---
Travel French Press
This travel french press is perfect for someone who travels often.  Even if he's just heading to work, but wants to be able to have some great coffee during the day.  He could bring some freshly ground beans to work, most offices have kettles, and he could use his french press to press the delicious coffee at the office.
He could use it for camping, or traveling for work, or countless other traveling engagements.
Travel Press

---
Electric Milk Frother
This gift would go great with the above-mentioned travel press.  He could keep one of these at the office and one at home.
The electric milk frother makes delicious freshly ground coffee even more delicious.  It's one of the best ways to enjoy your coffee.
---
Glow in the Dark Vintage Looking Shirt
Vintage shirts are very popular all over the place.  There are quite a lot of men that ONLY wear vintage shirts like this.  If he is one of those men, he will absolutely love this glow in the dark vintage shirt.  The glow in the dark part is really cool and unique.  I have never seen another one like it.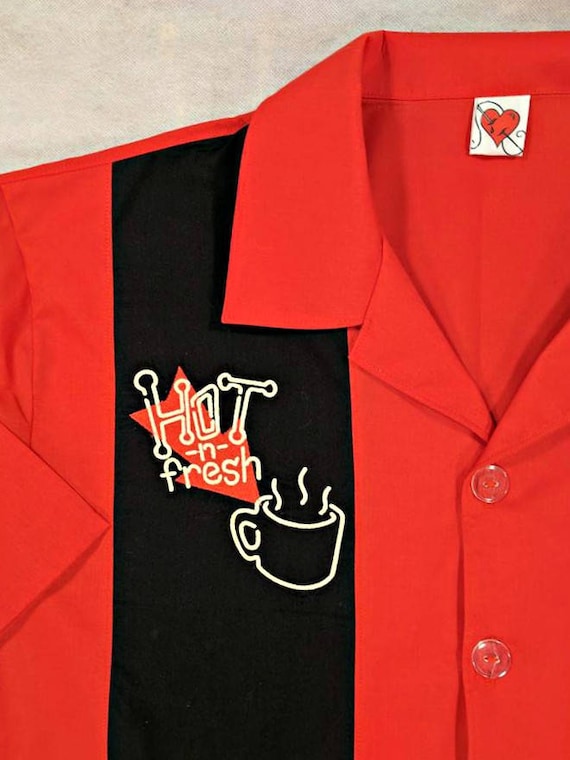 Glow in the Dark Vintage Looking Shirt

---
Espresso and Cappuccino Maker With Milk Frother
This is a fantastic gift for your any coffee lover.  In fact, I'm adding it to my own wish list.
He might already have a coffee machine, but what if he also had a cappuccino and espresso machine?  Talk about bringing his game to the next level!  This is such a great gift for someone who loves coffee because Espresso an Cappuccino are like coffee's cousin, or like coffee's best friend.
Mr. Coffee Cafe Barista Espresso and Cappuccino Maker, Silver

---
The Portable Mug for a Man's Man!
This is a great gift for someone who is always on the go, but wants to keep their coffee hot.  This is not your grandpa's portable coffee cup.  It comes with stainless steel straws and a straw cleaner so you can use it for cold stuff too.  I love that it's called "THE BEAST."
This is a very manly portable mug!
BEAST 20oz Tumbler Insulated Stainless Steel Coffee Cup

---
Graphic Tee with Play on Games of Thrones Quote
Does he love coffee and Game of Thrones AND graphic tees?  This t-shirt is a fun play on a famous line in Game of Thrones.  He can wear it proudly and enjoy all the comments he will get on it, because he is sure to come across other Game of Thrones fans while wearing it who will comment.  That's the best part of wearing a shirt like this!
I Sip Coffee I Know Things Shirt Coffee Lover Gifts Funny

---
Iced Coffee Protein Powder
This is so cool!  If he works out and love protein drinks, get him "THE BEAST" portable coffee mug with straw (see above) and this Iced Coffee Protein drink.  This is a delicious way for him to get his protein for the day.
---
Starbucks Gift Basket
I love this one.  Most coffee lovers love Starbucks.  This gift box is full of delicious Starbucks treats.  If he's ever mentioned Starbucks, this is the perfect gift.
California Delicious Starbucks Coffee Mornings Gift Box, 3.0 Pound

>>> Click here to see more coffee lover gift basket ideas here. 
---
Star Wars Travel Mug with Self Stirring Function
Most guys love Star Wars and Darth Vader is one of the coolest parts of Star Wars.  This self stirring portable coffee mug is super cool.  It's great that it's self stirring because sometimes you just don't have a darned spoon, or don't want to dirty a spoon.  This cup looks great and is super convenient.
Star Wars Darth Vader 12 oz. Stainless Steel Self Stirring Travel 

---
Keurig Single Cup Coffee Maker
Here's a great gift you could pair with some assorted pods (below) if you've heard him talk about making one cup at a time.  Does hes already have a machine, but need one for the office?  Lots of people have one at home and one at the office now.
Keurig K55/K-Classic Coffee Maker, K-Cup Pod, Single Serve, Programmable, Black

---
For the Coffee Lover that brews one cup at a time
Pair the Keurig you are buying for his office with this sample pack of all different brands and flavors.  People who love coffee love to try new flavors and different takes on what they usually drink.
Flavored Coffee Variety Sampler Pack for Keurig K-Cup Brewers, 30 Count

---
Flavor Syrup So He Can Experiment
Oh, this is a GREAT gift idea!  Adding a flavor shot to his coffee can just add that little bit of magic to his day.  I love a vanilla flavor shot in my coffee every once in a while.  It really makes a big difference in my day.
Monin Gourmet Flavorings Premium Coffee Collection

---
Stainless Steel Airtight Container to Keep His Coffee Extra Fresh
This isn't an exciting gift, but it's a very practical one.  If he is a practical fellow, and loves fresh coffee, he will love this and be very grateful. 
Coffee Gator Stainless Steel Container

---
The

BEST

Travel Mug
This is THE BEST practical mug for travelling.  My husband has 3 different varieties of the Contigo and uses them for cold and hot beverages.  It might not be the most exciting gift on the list, but it is one of the safest.  This is a great gift, because you can never have too many and it's a great reliable, proven brand.
Contigo SnapSeal Superior Stainless Steel Travel Mug, 20 oz, Gunmetal

---
Stylish Copper Mug
Copper is really in style right now and people all over are buying up these gorgeous and sturdy coffee mugs.  I don't think I know any coffee lover that doesn't love a copper mug.  They are great for camping, or drinking coffee on the porch, or just having coffee anywhere you want to.  Easy to clean and durable to travel with.  This mug always looks cool and stylish.  Imagine the selfies!!!!
---
For the Coffee Lover that wants to get better at making great coffee
If he wants to try great coffee, then he HAS to try grinding his own whole beans and making them in a french press.  This way of making coffee is DELICIOUS!!!!  Don't worry about finding instructions on how to do it, you can find that right here in my guide to using a french press.  If you do go with this option, don't cheap out on the grinder.  A conical burr grinder is the way to go, it grinds the beans much more evenly than a blade grinder.  All three of these items can be purchased together for somewhere around $50 to $65.
French Press Coffee Maker

Manual Coffee Grinder, Conical Burr

Kicking Horse Coffee, Three Sisters, Medium Roast, Whole Bean

---
Flavored Coffee Sample Packs
Sample packs make a great gift for that coffee lover that loves to try new flavors.  This sample pack has some really great flavors like s'mores and french vanilla.  When in doubt, you can't go wrong with a sample pack or a gift basket.
Hikers Brew Coffee – 6-Pack Sampler

---
Coffee Gift Basket – The Old Stanby
You can really never go wrong with a gift basket of coffee and complimentary products.  This gift basket is a great idea if you just really don't know what to get and you know they love coffee.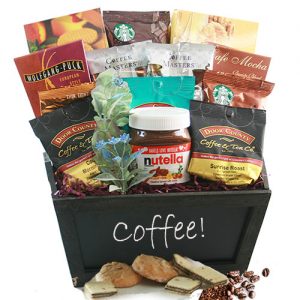 >>> Click here to see more coffee lover gift basket ideas here. 
---
Gargoyle Coffee Mug (and others like it)
This mug is so unique!  As you sip your coffee, the gargoyle is revealed.  It's fun every single time!  There are all kinds on their website so if the gargoyle isn't exactly their taste but you love this idea, click the link and browse around.   There are all kinds.
---
If you've liked this article, you may like this article about Coffee Lover's Gift Ideas She Will Love!
---
---
Please follow and like us: