The Best Guide to Grinding Coffee at Home
If we are going to make the best cup of coffee we can, one of the major lessons to learn is how to grind coffee.  So we are going to need a good grinder.
I found this great video by wholelattelove.com that goes over everything that we need to know about grinders.  Here are some snippets to help you figure out what kind is best for you. (scroll to the bottom for the entire video).
Is it worth griding your own coffee beans?
Yes. Yes.  And another Yes!  I didn't realize how INCREDIBLE coffee could taste until I started grinding my own coffee beans.
If you want an amazing coffee experience without all the bells and whistles, get yourself a grinder, some whole beans, and a french press.  You will instantly fall in love with coffee.
Can I grind coffee beans myself?
It's way easier than you think to grind your own coffee beans at home.  I started with a simple hand grinder because I didn't want to spend a lot of money.  I fell in love with the smooth frother coffee it produced and eventually bought an electric grinder.
You can definitely grind your own beans yourself.
Should you use a blade grinder?
Blad grinders don't grind the coffee evenly, leaving small pieces and large chunks.
The large chunks don't properly extract the flavor, but the small pieces do.  You are essentially leaving flavor behind when you do this.
As he says the coffee will be unbalanced, weak and bitter at the same time.
Burr Grinders Are Your Best Bet
They come in different shapes, sizes and materials.
Burr grinders come in either flat or conical size.  Which is better?  This is highly debated.
Flat burrs tend to give a more consistent grind. Conical burr grinders grind faster.  He mentions flat burr grinders are better for things like espresso, and conical burr grinders are better for things like pour over.
Burr size measured in milimetre sizes.  Ranging from 40mm for home use to 83mm for commercial use.  The higher the burr size, the higher the quality of the grind, and they tend to grind quicker.
Burr Materials
Usually made of steel or ceramic.  Sometimes even titanium, that will last a lifetime.  Steel is the most common, will last a long time and tend to dissipate heat quicker than ceramic.   Ceramic can be more brittle and break easier, although they stay sharper longer. Is one better than the other?  They are both great choices.
If doing a lot of grinding, steel dissipates heat quicker, so that might be your best choice.  It sounds to me like steel is durable enough, common enough, and given how we will be using it, this sounds like the best choice to me. 
Two Basic Types
Stepped has clear stops and will stop on each step.
Stepless has no stops, allowing you to make finer, more precise decisions.
You don't need stepless adjustment at home. Some have microadjustments within each step, so if you want to make espresso, you have the option.
 Wattage
Range from 100 to about 400 watts.  The more watts there are, the longer it can grind for.  As an example, 100 watts would grind for about 60 seconds then you would should wait about 10 minutes to grind again.
Build quality
Obviously cheaper machines would have cheaper quality parts.  The higher you go in price, the better quality of parts.
Other things to consider
The types of adjustments.  Are there button adjustments, lever adjustments, etc…
Do the grinds go into a grind bin, is there a dosing lever that measures for you? Etc..
Recommendations for beginner level grinders. 
For Drip, Press, or Pour over
Capresso infinity
Advantages: Been around for years

Downsides: It's a bit slow, and made of plastic. 
Images from whole latte love video below.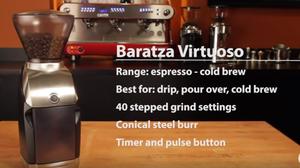 Baratza Virtuoso
Largest grind size range of the three.

Can be used for cold brew.
ROK Coffee Grinder
The most bang for your buck
If you are looking to buy these now, check them out here.
Capresso 560.01 Infinity Conical Burr, Black

Baratza 586 Baratza Virtuoso Coffee Grinder

ROK Coffee Grinder, Aluminum

His "Jack of all trades" pick is the Baratza Vario
It can be easily adjusted, with micro adjustments, has a nice heavier duty conical burr grinder, and is a great little machine.
Dispenses into a grind bin or metal pour holder, and has long been known as a great machine for entry level into consumer espresso making.
 Get it here.
Baratza Vario 886 – Flat Ceramic Coffee Grinder (Retail)

He also reviews some machines for espresso, but since we aren't really learning about I haven't included that information here.
Check out the video below and check out their site for tons of info as well at wholelattelove.com
Posts Related to Health Benefits of Coffee
If you liked this post, you might like to check out one of these posts.
All about the health benefits of coffee and why you should sip without any guilt at all.
Read this post about the health benefits of mushroom coffee. Mushroom coffee has become increasingly popular, find out why!
Check out some recipes and a review of Keto, or Bulleproof, coffee in this article.
Please follow and like us: