Bring your dog, your laptop, and your beer-drinking buddy
For a small, quaint, college town on California's central coast, halfway between Los Angeles and San Francisco, San Luis Obispo (or 'SLO', as it's affectionately known) has a lot of coffee shops–and they all make great coffee. 
With so many choices, how do you choose the best coffee in San Luis Obispo? Here's a breakdown of SLO's standouts.
If you like this post, you might also like:
1. Best coffee shop for a quick bite 
It's not hard to find great food and great coffee in SLO.
One of the tastiest San Luis Obispo restaurants for breakfast, Sally Loo's Wholesome Cafe offers an excellent pour over coffee with Cacti Coffee, locally roasted in Santa Margarita, CA. The walk-up order window at Sally Loo's keeps things casual: Enjoy a breakfast burrito, waffles, and small breakfast and lunch items in their charming 1930s bungalow space, or outside on their cheerful sidewalk patio.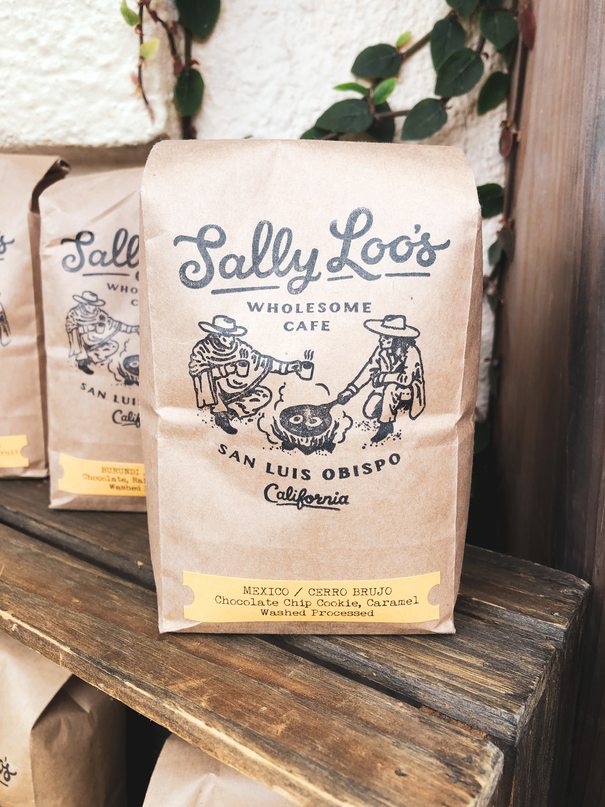 If you're looking for some of the best baked goods in SLO to go with your coffee, Joliene Bakery makes an authentic chocolat au pain that's a sweet match for their New Orleans roasted French Truck Coffee. Joliene, located in the historic Creamery building, is known for their French-style pastries and custom-order cakes.
Hit family-owned Nautical Bean for a cozy, fun, and friendly punk vibe. Nautical Bean rocks a mean breakfast sando, known as the Eggel–one of its popular dishes that's highly customizable. Forget fast food: With quick access to the 101 freeway, it's easy to grab a matte latte and a flatbread, sandwich or wrap to-go from Nautical Bean.
2. Best coffee shop for people-watching
Looking for a share-worthy scene and a good coffee? Check out these Instagrammable and fun-vibing coffee joints in SLO.
Cal Poly students mingle with locals and tourists at hip and trendy Scout Coffee Co. Try their Garden Street location for a beautiful exposed brick wall backdrop, gorgeous floral arrangements, and prime people-watching.
For a beachy morning experience, take the 10-minute drive out to Kraken Coffee in Avila Beach, a small SLO beach community. Kraken is a great place for an amazing coffee, a cinnamony-buttery breakfast bun, and for watching the dogs and walkers on the beach. And their maritime turn-of-the-century wall art feels museum-quality: Take your selfie under the giant squid on the mezzanine level. You'll find Kraken in Pismo Beach, too.
3. Best coffee shop for a beer
What do you do when you want coffee and your buddy is craving something stronger? Fortunately, in San Luis Obispo, you can have it all.
For a great cup of coffee and a beer, try Kreuzberg California. This warm, stylish Berlin-inspired café is open until 10 p.m., so you can start your Friday night here: Get primed with tuxedo mochas or a pint of local brew.
Brunching it? Located just off SLO's downtown main drag, Libertine Brewing Company is known for its sour beer and bar-grub brunch food menu, but it also runs the modern, airy, and bustling Libertine Coffee Bar next door to its dining area. The industrial look of its roll-up patio doors and windows make a great lounge area for socializing and sipping something brewed.
4. Best coffee and a hot chocolate
For a weekend morning with the family, start your downtown SLO stroll at BlackHorse Espresso and Bakery. Here, you'll find full-bodied coffee from local Paso Robles, CA, roasters Spearhead; kids will be excited to sip and dunk with specialty hot chocolate and house-baked goodies. It's a nice place to plan your day, and watch SLO wake up.
And if you're exploring vineyards and farms on the south side of San Luis Obispo, stop by Lucy's Coffee Co. Lucy's pours good coffee and is sure to impress the littles with their hot chocolate topped with toasted marshmallows.
5. Most welcoming coffee shop
Latinx-owned and LGBTQ+ friendly, Kin Coffee Bar is one of the most inclusive spots in SLO. Try one of their signature yummy coffee drinks with almond milk, oat milk, or soy milk. And while they're known for their colorful matcha drinks and neon green tea lattes, Kin also serves some of the best juice in town–locals love their mango and guava juices.
6. Best coffee shop for outdoor seating
Need a good place for coffee al fresco? Head to downtown SLO for café-style seating and sidewalk sipping.
At Linnea's Cafe on quaint Garden Street, you'll find a cozy coffee shop with local art adorning the walls; if you make your way past the counter to the back, you'll discover a lush jasmine-scented, fern-shrouded garden patio and perhaps some live music. This beloved coffee shop (established in 1984) is known for having one of the best garden patios in SLO; Linnea's serves housemade baked goods and breakfast daily beginning at 6:30 a.m.
Got a furry friend in tow? Skipper's Brew Coffee House SLO loves to meet your four-legged friends–just check out their Instagram feed. Try an iced coffee with their signature nitro cold brew, grab a treat for your pup, and head out to an umbrella-shaded table. Known for its inclusive, LGBTQ+ community-friendly environment, Skipper's offers fantastic, dog-friendly customer service at their Morro Bay location, too.
7. Locals' favorite coffee shop
According to SLO's New Times Magazine's local polls of San Luis Obispo County readers, Scout Coffee Co. is worthy of 2020's 'Best Cup of Coffee' and 'Best Coffee Shop' honors. Known for its airy, modern vibe, Scout uses beans from sister company HoneyCo Roasters; its craft coffees and boho ambiance got it a mention in the New York Times. Visit Scout in two locations: on cozy Garden Street in downtown SLO, or on Foothill Boulevard near the Cal Poly campus, where college students appreciate Scout's strong wifi and abundant table space.
Another New Times 2020 'Best Of' winner is Coastal Peaks Coffee. Voted 'Best Local Roaster', Coastal Peaks roasts their beans and operates a popular coffee shop in an unassuming strip mall in a business park area of SLO. Locals rave about Coastal Peaks' micro-roast process with the highest quality beans from small estates and co-op farms.
And, finally, for a quiet space surrounded by art, Ascendo Coffee is a great local coffee shop. Ascendo roasts its own beans, has a tech-free zone, and exudes a true community feeling. Grab a flat white and flip open your laptop (or not): Ascendo is the perfect place for a work-near-home session or meeting. You'll find another Ascendo location in Los Osos, a funky, foggy bayside community on the drive to Montaña de Oro State Park.
Soak up some SLO coffee culture
SLO's charm truly shines in its coffee shops. Sunny patios, tasty snacks, and fresh-roasted beans: A great coffee experience in friendly San Luis Obispo is easy to find whether you're working, playing, or just visiting.
About the Author
Erica J. Thatcher is a freelance content writer, a foodie, and (shhh!) a librarian. Web copy, infographics, and data stories: She loves to present complex information in a friendly, accessible way. You can find her at ericajthatcher.com, where she writes about food, professional growth, and–surprise!–books.
Please follow and like us: