These products were created by me, so please feel free to browse around.
If you have a special request, please let me know, I am happy to consider it.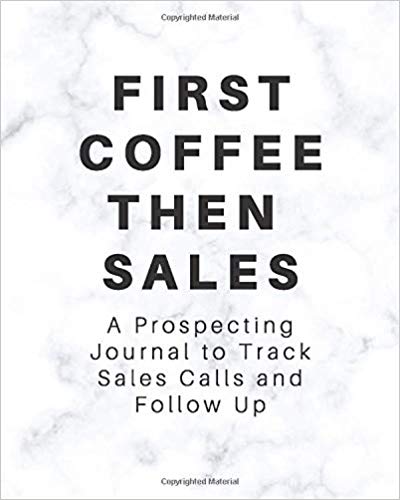 First Coffee, Then Sales
A Prospecting Journal to Track Sales Calls and Follow Up
If you are in sales, you likely need a big ol' cup of coffee first. This sales journal is a fun play on the old joke "but first, coffee."
First, you drink the coffee, then you make the sales.
---
Above All, I'm Grateful for Coffee
a coffee lover's daily gratitude journal.
This coffee themed gratitude journal is perfect for someone who likes to jot down a daily note of gratitude.
This journal can also be used as a regular journal.
At the top of each page, it says "What Are You Grateful For" and the date.
---
Grateful for Everything, Especially Pumpkin Spice Lattes – a Gratitude Journal
This gratitude journal is pumpkin spice themed. Jot down what you are grateful for, even if it's just pumpkin spice lattes.
---
Funny I Need Coffee In An IV V Neck Tshirt
This funny shirt is cute and clearly states the wearers' love for coffee. It makes a great gift for anyone who adores coffee and love a good funny tshirt.
It makes a good gift for your mom, daughter, wife, coworker, or any woman that likes tshirts.
NOTE: Click through for more color choices.
---
Christmas Starts After My First Candy Cane Hot Chocolate Tshirt for Men or Women (More Colors Available)
Do you have a major love for Candy Cane Hot Chocolate at Christmas time?
Same here!
This Tshirt can be worn proudly by anyone who feels the same way. It makes a great gift for women, but there are men's shirts available as well.
Click the button below to check out the other colors and sizes that are available.
---
Cute Whimsical Coffee Mug "I Love Coffee" Tshirt for Women (More Colors Available)
This coffee lover's t-shirt is cute and has a really pretty whimsical feel to it.
Do you need a gift for a friend or coworker, perhaps your wife, mother, sister, or daughter? This shirt makes a nice gift for a coffee lover.
Click the link below to see all the available colors.
---
Coffee Makes the World Go 'Round Tshirt (More Colors Available)
This java loving world map is made up of coffee beans.
Buy it for a man or a woman, or even yourself if you love coffee.
Click the button below for more sizes and colors.
Coffee Lovers Gift Guides