It's Keto Peanut Butter Coffee Time!
When I was making this recipe, it reminded me of this GIF.
⬆ That's what my husband looked like after he stole this recipe off the counter and scurried back to his office.
When I was taste testing it, I left it on the counter for a few minutes. My husband walked into the kitchen and says, "oooooh, what's this?"
He took a sip.  Then he STOLE my dang coffee!  
When he emerged from his man cave/office later, he says, "What was in that coffee? It was good!" lol
This is one of my favorite Keto coffee recipes.
If you're on Keto or even kinda on Keto, this recipe can be used as a meal replacement, or you can reduce the portions and make it an add-on snack.  
It's the closest thing to a peanut butter cup you can get, but in liquid form. 
Disclosure: This post may contain affiliate links.  That means if you purchase something from a link on this page, I may earn a commission at no extra cost to you.  These affiliate commissions allow me to continue to make free content for you to enjoy. 
Please also note that some ingredients may have allergens. Please be careful and make sure you know your own allergic reactions and what you can and can't have. Nothing on this site should be accepted as advice of any kind. It is your responsibility to know your own health and limitations.
Is peanut butter Keto-friendly?
Technically you're not supposed to have peanut butter on Keto if you're doing CLEAN keto. 
But if you're doing "lazy Keto" (this is where you count, but you don't follow the food rules strictly), you're allowed to have peanut butter. 
If you're worried about it, you can swap it out for almond butter.  It has a similar flavour, but is more keto friendly. 
Does Keto coffee really work to lose weight?
Keto coffee allows you to get things like your MCT oils, collagen powder, protein powder, coconut oil, etc… into your meals without forcing them down. 
It can be super frothy and delicious.
Keto coffee can make a great meal replacement if you workout and you're on the go. 
My sister used to take her bulletproof & keto coffee to the gym with her in an insulated mug. 
So the answer to this question really lies in WHAT you put into your coffee. If you load it with sweeteners every day, you might slow your progress. But if you add a dash here and a dash there, and follow all the other rules of Keto, you should do fine.
I'm not a Keto expert, and I practice "lazy Keto" when I am doing Keto… so keep that in mind.
How can I sweeten my coffee on Keto?
This recipe, and any other Keto coffee recipe, can be sweetened with sugar free sweetener. 
If you use splenda, you could spike your blood sugar (a no-no on Keto).  But if you use stevia (like Swerve) or monk fruit, you can usually avoid spiking your blood sugar.  Skinny syrups has a line of Keto sweeteners, and I also sometimes use the regular sugar free sweeteners. 
Sugar-Free Peanut Butter Coffee Recipe (With a Chocolate Kick)
This recipe is quite thick and rich. But if it's worthy of being stolen by my husband with a big ol' "mmmmmm" to follow, you'll like it.
He doesn't do Keto at all.
Ingredients:
Instructions
Blend all ingredients together until it becomes foamy. 
Pour into your favorite mug. Sprinkle a little cocoa powder on top to make it look all fancy-like. 
Yield: 1 Cup
Sugar-Free Keto Peanut Butter Coffee Recipe (With Chocolate Kick)
This sugar-free peanut butter coffee recipe is a warm and comforting (and Keto-Friendly) beverage that can be used as a meal replacement or as a snack, depending on your Keto lifestyle.
Ingredients
Hot black coffee (a mug worth-to taste)
1 tbsp natural peanut butter (can swap in almond butter or PB2 if you prefer)
1 tbsp cocoa powder
1 tbsp half and half cream
A splash of vanilla extract to taste
½ tsp Swerve (or use Vanilla Skinny Syrups instead of vanilla and Swerve)
Instructions
Put everything but vanilla extract and sweetener into a blender and mix thoroughly and frothy.
Add vanilla extract and swerve to taste (or Vanilla Skinny Syrup).
Pour into your favorite mug and enjoy
Notes
If you want to make this a full meal, you can add collagen, protein powder, MCT oil, or any other Keto ingredients that go well with peanut butter. Adjust as you see fit.
Nutrition Information:
Yield:
1
Serving Size:
1
Amount Per Serving:
Calories:

126
Total Fat:

10g
Cholesterol:

5mg
Sodium:

5mg
Carbohydrates:

7g
Net Carbohydrates:

4g
Fiber:

3g
Sugar:

2g
Protein:

5.4g
Peanut Butter "Alternatives"
If you don't want to have peanut butter, you can try these peanut butter alternatives.
PB2
PB2 is a peanut butter powder alternative that many Keto dieters use. It has less fat than regular peanut butter. It's a great plant-based protein.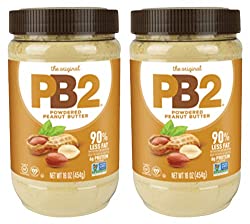 Almond Butter
Certain diets, like Keto (if you're being super strict) don't allow peanuts. Almond butter is a good alternative. It tastes very similar.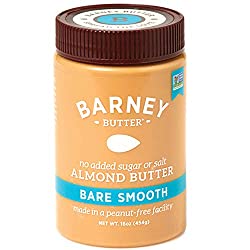 ---
Recent Posts
Please follow and like us: